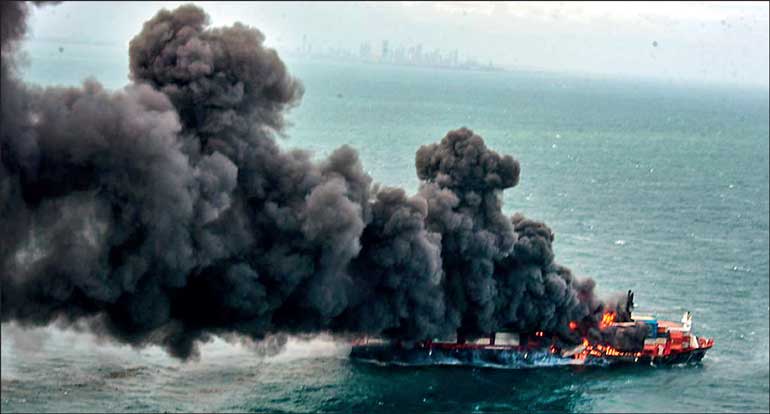 Sri Lanka as it appears today is never short of events that need fire-fighting, literally and figuratively. 

When MV Xpress Pearl anchored off Colombo the event to unfold was to be the worst maritime incident of Sri Lanka. With the initial reporting of a leak from a nitric acid container and then seeking help to douse a fire, it did not take much time for the fire to engulf the entire deck of the Pearl. 

A couple of violent explosions too rocked the ship, dislodging containers to the turbulent waters. The stricken ship sank as soon as an attempt was made to tow the ship to a safer location outside. For as much as 10 long days a dark plume of smoke and fire was visible. The towing was attempted once the fire was almost absent with only smoke being visible. 

Now the ship – a good part of it anyway – is touching the bottom and salvors hired by the ship ownership are expected to complete this incident by completing the wreck management. When that is going to happen is still into the future, but that is an action that needs to be completed fast to reduce further impact.
Restoring eco-systems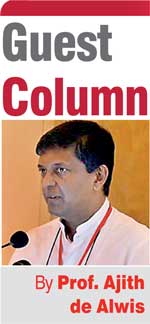 Sadly, the ship sank and opened up the second chapter of this environmental disaster. We are facing this issue in the environmental month in which Global Environmental Day falls. The theme for this year identified by the United Nations Environmental Program is 'Ecosystem Restoration' – preventing, halting and restoring degraded eco-systems. Simultaneously the launch of the UN Decade on Ecosystem Restoration is also initiated.

There have been significant damages to ecosystems by ourselves due to both poverty and consumption and an accident of this magnitude is demonstrating vividly the damages possible to the environment. Thus there is an immediate necessity for restoration of an eco-system – perhaps not one but quite a few.

As we have read in this column this is a decade with multiple challenges being thrown in and we have to work on all fronts – whether to bring down carbon emissions, nitrogen emissions, reduce soil loss, fight species extinction, etc. as time has run out to seek solutions in a more leisurely manner.

A decade represents two election cycles and one has to imagine the gravity of the decisions that are required by the leadership as the fight is on to save us from a calamity. Have we understood this situation? Are these events eye-openers happening right at our doorstep? Simply fighting and stopping the fire is not victory.
The X-Press Pearl and its cargo
An unwanted event has caused significant environmental pollution and in many compartments – air, water, sediments, shore line, food web, etc. The pollution is both visible and invisible. It is also short term, medium term and long term.

The cocktail of chemicals being moved around as cargo has been the culprit. Once the fire consumed the ship the amount of reactions that could have taken place is so many. Some may have neutralised each other but such occurrences would have been only a few.

The ship is almost new – in fact three months old. She has come to Sri Lanka twice before this journey within those three months. The service is as a feeder vessel moving swiftly from one port to another delivering and picking up cargo.

The cargo at this juncture makes interesting reading – from frozen chicken feet and scoured goat hair to nitric acid, methanol and lithium electric batteries. Cargo manifest demonstrates what we are consuming in what way! You find raw materials and brand new products as well as used products.

With the incident people are shaken, livelihoods have been disrupted, many a flora and fauna both on shore and at sea had suffered. Any health impacts? When the fire was in full flow with the prevailing wind being towards land, some definitely would have been affected. I am sure at least the use of the inhaler may have been necessitated. It is quite difficult to defend the situation with a low impact and no pollution mindset. I however wish to address this situation in a different way giving justice to the month that we are in.
Cargo for consumption
It is important to understand that everything the X-Press Pearl was carrying was to satisfy our consumption and to meet our ever-expanding demand. These are trafficking of consumption – easy to state but difficult to address as for the economy of today these are journeys of absolute importance.

Each and every item being traded and on board had a meaning and a utility. The plastic nurdles creating such images of horror across the beaches and in lagoons are bound to support much of the plastic goods and services. Some may have been en route to create gowns and masks, PPEs much in demand for fighting COVID-19. Are we being ungrateful when we point fingers and cry foul for such nurdles displaced not by their choice but because of our action?

The other epoxy resins would be for the electrical and electronics sector. The alkyd resins may be for the paint and coatings industry. The cargo had significant tonnage of plastic materials and we know we are in the plastic age. Each one of these items has a purpose. A quite a number of them had been classified as dangerous cargo. Are we to watch the words dangerous cargo and start blaming a ship carrying such cargo? Some even went to the extent of transforming all that was on board to hazardous waste.

It is instructive to note the assessment of IMO over its global maritime traffic. IMO indicates that nearly 50% of the cargo usually carried by ships are dangerous cargo. That simply demonstrate the vital roles these chemicals support.
Sri Lanka's readiness
We have been eyeing the significant flow of maritime traffic off our south shores and always dreamt that more of them would stop with us and give us some business. Readiness to face a chemical accident has tested us and the result of the test has not been good. Well the fault may not be with us in this case yet an expertise that one has to develop is the ability to successfully manage issues before they spiral out of control. This one unfortunately did.

Now that is a lesson that should not be lost on us moving into the future as ships will continue to ply catering to our consumption and needs until the paradigm shift of a circular economy and sustainable consumption become the norms of living.

All these chemicals would have ended up as goods. At the end of their useful life the impacts could occur but in so many places distributed across. What happened here was that all materials in 1,486 containers got lost in a matter of days at a single location. The impact of this concentrated discharge is what is making this event an environmental tragedy.

The X-Press Pearl had a significant amount of urea on board. Properly distributed these may have given the chance to support agriculture. Right now the Bay of Bengal has a dead zone with an area of 60,000 sq km – almost the size of Sri Lanka. The cause of this is from nitrogen runoff. Years of wrong application practices have contributed to this situation. Now we have directly released a significant nitrogen load to the atmosphere and water.

Up to now we are only viewing with alarm the scenarios of pacific garbage patch and similar patches in all oceans. Our corrective actions have not shown much of a change. These are long-term impacts. The billions of nurdles would have both immediate and long-term impacts.

It is interesting to note that the marine pollution prevention convention actually does not consider plastics as a pollution issue. However, micro plastics is today is an emerging critical problem where we are yet to know all the consequences of our follies in this space.
An expensive lesson
A ship has given us an expensive lesson. Travelling with a leak on board identified to be of a highly-corrosive and an oxidative chemical begs the question of approval of sea worthiness perhaps from one port to another. Justice on the ownership for negligence definitely is a short-term activity.

The message that we have received in this important month when we gather around and speak much on the environment should be embraced and strengthened. Ten years to save a planet by changing our habits and our way of living is seriously a short time period.
https://www.ft.lk/columns/Pearl-of-Expressed-Consumption/4-719085